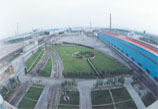 Located at the west end of the Great Wall, in the city of Jiayuguan, Jiuquan Iron & Steel (Group) Co., Ltd. was founded since 1958. By the endeavors of generations in more than four decades of construction, a modern iron and steel complex synthesizing trade, finance, plantation and husbandry has come into being with great potentiality.
Today, JISCO has formed up three manufacturing bases, Jiayuguan, Hongyang in Shanxi Province and Yuzhong near Lanchow city, accounting for a total asset of RMB13.5 billion yuan or $1.6 billion dollars and a total annual capacity of 2.2 million tons of pig iron, 2.2 million tons of crude steel and 2.6 million tons of rolled steel. It has been listed into the national top 500 enterprises and become the largest iron and steel base in the northwest region of China.
Lying deep inside the Qilian cordillera, the Jingtieshan Mine, which aroused the idea of constructing an iron and steel plant, is the main base of raw material for JISCO.
"Hexi Corridor", where JISCO is situated, is the only artery between Europe and Asia. Across the whole country from the east to the west, the "Longhai", "Lanxin" railways and NO.312 national highway share their junction here. It is only 10 minutes ride from Jiayuguan airport to the city proper. All these convenient transportation and traffic have made it possible to send the products of JISCO to all over the country as well as the world.
Concerns for JISCO come not only from its builders, but also from the leaders of the State government. Since 1990's, Hu Jintao, Jiang Zemin and Zhu Rongji have successively visited JISCO or have given important instructions. Leaders of authority concerned have also come or worked on site, which has greatly inspired all the staff in JISCO.
In 1978 when China first adopted the policy of "opening up to the outside world", JISCO began its additional construction and technical innovation with the concept of "Manufacture first-class products, Create first-class enterprise". After years of efforts, a complete and assorted industrial manufacturing system, ranging from mining, ore-dressing, sintering to iron-making, steel-making and rolling was established. Henceforth, technology, facilities and productivity have been greatly improved; radical changes have taken place to the structure and variety of products as well. Major economic or technical indexes have reached domestic advance.
At present, two blast furnaces with a volume of 1800 and 1000 cubical meters respectively are both controlled by automation system for the whole process of smelting. Three 50-ton converters in the steel-making procedure are able to produce high-quality plain carbon steel and many kinds of special steel. Different specifications of wire rod and bars, such as carbon-structural steel, welding rod steel, cold forging steel and low carbon drawing wire steel are produced by three high-speed wire rod and bar production lines, which have adopted the updated techniques in the world. The plate rolling mill designed and equipped with advanced techniques of the 1990's is able to produce high-quality low alloy structural plate, boiler plate, shipbuilding plate, bridge plate, container plate, oil & gas pipeline plate, etc. Being one of the key projects in the "10th Five-year Plan" of JISCO, the Steckel rolling mill has introduced into the most advanced controlled rolling technique and will be able to produce carbon steel, carbon-structural steel, low alloy steel, pipeline steel, bridge steel, automobile steel as well as AISI300 & 400 series of stainless-steel coils and strips.
With years of development, a complete assistant manufacturing system has been established, consisting of, within the domestic metallurgical industry, the most mechanized comprehensive stockyard, the longest limestone belt conveyer, the biggest high-intensity magnetic separators and the advanced acid pellet sintering technique. The self-owned thermal power plant of JISCO has a total generating capacity of 422,000 kilowatt. In addition, the power generating plant, gas supply plant, mechanical & electrical machining and repairing, auto-conveyance, building material production, fire-resistant material production together with civil & engineering construction also contributes to the system.
As the result of reinforcing the internal management, the quality of products has been continuously improved. More than 100 specifications of products, such as pig iron, billet, wire rod, bar, plate, ribbed bar and coke have reached national or industrial standards, in which 9 kind of products, carbon-structural steel, hot-rolled steel plate, etc. are of international advanced level. Besides, 15 kind of high value-added steel has been developed independently. Some SKUs can be manufactured according to international standards, such as American and Japanese steel grades. In 1998, JISCO was awarded the Quality System Certificate ISO9002 by China Metallurgical Industrial Quality System Authentication Center and ISO9001 Third Party Certificate of Quality System Authentication 2000 edition in the year 2002. Stable and reliable quality also helps exploit overseas markets for JISCO. Some steel products are exported to Korea, Japan and the United States.
As other big enterprises in the world, JISCO pays much attention to environmental protection at the same time of production. With modernized management and standardized manufacturing, JISCO was granted the ISO14000 Environment System Certificate by China Environment Research Institute in 2001. Today, JISCO, which was built up in the sparsely inhabited Gobi desert, has presented its visitors a scene of grassland, gardenesque worksites, and embodies a time spirit of Commitment to Excellence.
Adhere to the strategy of technical innovation and talents cultivation, JISCO is marching towards new industrialization and information. By independent research and co-operations with universities and research institutes, technicians have finished a lot of national innovative projects, acquired patents, made technical breakthroughs, and established technical collaboration, import & export relationship with more than 20 domestic or foreign enterprises and research organizations. Moreover, great efforts have been made to invite, cultivate capable people and encouragement measures have been set up, with which technicians are able to get more favorable treatment and better competition environment.
With strength and fast pace in deepening internal reforms, JISCO has achieved a lot in many aspects. As a result, JISCO re-structured or merged several domestic enterprises. In 2001, one of its subsidiaries, Hongxing Iron & Steel Co., Ltd. successfully got listed in Shanghai Stock Exchange. Furthermore, reforms on education, medical care system, housing and insurance have satisfied staffs and adapt well to the Market Economy. By setting up the Manufacturing Instruction Center and Business Center, JISCO has reformed its management system, implemented a management mode of flat & Dumb Bell and realized process re-engineering. Consequently, its production structure and comprehensive strength made great leap over the past. In order to develop a diversified business tactic, modernized industrial park, husbandry yard, plantation garden, supermarket, as well as tertiary industry continues to flourish. With the government guidance and policies of helping layoff workers, JISCO exerts itself to carry out an Employment & Re-employment Project. Thus, 90% of the layoff workers find their new positions via professional training, labor exportation and commonweal activities. On the other hand, housing and living conditions of the staff have been tremendously improved. Average housing area has increased to 28 m2 per person. Well-equipped water amusement, park, leisure square, forest park, stadium and other welfare facilities enhance the quality of life. Thanks to the reforms, JISCO is on a way of sustainable, positive and speedy development.
Yet, the people of JISCO are more proud of their precious and unique spiritual resource, the Tieshan Spirit --- "pioneering, perseverance, dedication and exploration". Bearing them in mind, JISCO puts great importance on the construction of corporate culture and makes efforts to create a "learning enterprise". To absorb advanced management and experience, JISCO has communicated with many known iron & steel companies both domestic and foreign. In 2002, an exchange visit was made to POSCO, Korea, to probe into the management of its founder, Mr. Park Tai-jung. Meanwhile, JISCO inspires its staff with modern business and management notions of crisis, innovation, faith and integrity. The management team of JISCO never stops making progress and dedicating to leading all the staff intently to construct a modern and sustainable enterprise.
Facing both opportunities and challenges of the Market Economy, JISCO is now standing on a new historical turning point. To access the goal of "founding a lifetime undertaking", develop itself in Northwest region, expand to the whole nation even to the whole world, JISCO will stick to its sustainable strategy, strengthen the core competence and create an enterprise full of vigor, characteristic and culture. Let's wish the prospect of JISCO better and more prosperous!