The World Cultural Heritage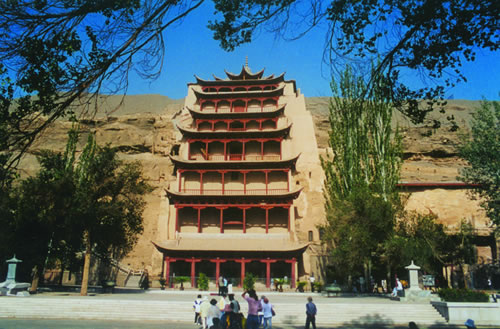 Mogao Grottoes In Dunhuang About 25 km. southeast away from the downtown of Dunhuang city, Mogao Grottoes had been carved on the cliff at the eastern foot of MingshaSand dunes since 366. This Cave Complex has 491 grottoes well remained with over 2400 Buddhist statues and 45000-sq.m of murals. Known as The Art Treasure House in the World,It was listed as the World Cultural Heritage by UNESCO in 12 1987.
The art features of Mogao Grottoes, as an organic integration of architecture, sculpture and murals, systematically recorded a variety of aspects of cultural exchanges between China and the West during more than ten dynasties lasting for 1000 years from the Sixteen Kingdoms to Yuan Dynasty, which has become the rare cultural treasures and wealth of the human beings.Now the"Dunhuangology"has been studyied comparatively worldwide.With the contribution from Japan, the Dunhuang Art Exhibition Center which imitated some of the essential original caves has been built up by Dunhuang Research Institute at the foot of Sanwei Mountain that oppositing to Mogao Grottoes, which made the visiting more colourful.